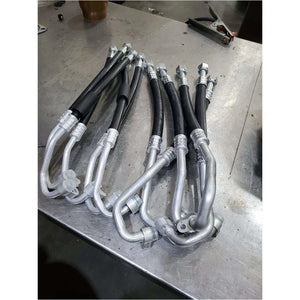 Up until now, if you wanted to have functioning A/C on your 2GR equipped MR2, you would be required to custom fabricate a/c lines or modify your existing lines in some way that was irreversible. Now with the TCS Motorsports 2GR A/C line set, it makes adding A/C to your 2GR MR2 a breeze! Our lines will be plug and play and require no cutting/splicing/welding of any part of the car.
These lines are made to fit the 1GR A/C compressor that is most commonly used on the 2GR engine swap. We use the 1GR A/C compressor from the 2003-2009 Toyota 4 Runner and 2007-2009 FJ Cruiser. We recommend using Denso Part number 4711413 if you would like to pick up a brand new compressor.
Fitment: These are only made to fit the 1991-1993 Toyota MR2, using the 2GRFE V6 engine and a 1GR Toyota 4 Runner A/C compressor. The 1994-1995 MR2 uses a different fitting on the chassis side that we have not yet been able to duplicate. 
*Our lines are a tight fit in the MR2 engine bay and may require slight bending of the line to position correctly.