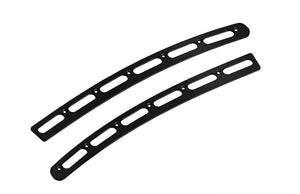 Purpose
A common issue with 1991-1998 MR2s is leather cover on the dashboard lifting, warping and bowing upwards near the HVAC circulation vents after exposure to UV/heat and as OEM adhesive brittles up and breaks down over time. Unfortunately, this problem becomes worse over time if left untreated.
This product is currently designed for owners who would like to perform preventative maintenance and is trying to fix light to mild lifting before it gets out of hand. If lifting is extreme, this may or may not completely fix your issues as the design is somewhat minimalistic. (If you do try, apply gorilla glue!)
Another common issue is the plastic vents themselves become brittle and crack into many pieces. 
We've discovered that the vents section of dashboard is flat and so we designed an aesthetically pleasing solution. By installing these aluminum dash vent covers, OEM leather cover will be forced back to its intended place and stay fixed, eliminating any dashboard lifting. We have tested on our only LHD dashboard here at the shop which consists of mild lifting, but we assume it will also remedy cases that are a bit worse than ours as well as being likely to fit RHD MR2s as well (untested). 
We recommend applying gorilla glue (really good adhesive, click here) underneath lifted areas while installing this product for maximum effectiveness - Remember that once detached from OEM adhesive and warped, the cover has "memory" and naturally wants to become increasingly warped, especially in extreme cases. In extreme cases, the leather cover may back out from under the metal plate after installation with heat/sunlight exposure, and that is where gorilla glue really helps and does wonders
Features
Sturdy 5mm thick 5052 Aluminum construction to hold everything in place without deforming
Laser 3D Scanned and CADed for best design, best fitment, best function, symmetry and to flow aesthetically with OEM design curves
Generous amounts of width around vent openings to help secure OEM leather.
Matched air vent size opening for maximum uninterrupted air flow
Nylon Standoff Spacers for guiding OEM leather cover back to correct OEM intended height, relative to fixed bare dashboard structural base/core. Also included will be various height standoff spacers to eliminate any gaps and for a tight seal with dashboard.  
High Quality Black Countersunk M6x1.0 flat head screws, washers and nylon lock nuts and spacers, from trusted MC Master Carr for long lasting uninterrupted performance.
Optional Black Anodized finish to match OEM dashboard
Includes
Pair of vents
Hardware Pack
Fitment
Tested on LHD dashboard, may fit RHD (untested).
Should work with all 1991-1998 MR2s
Notes
Final version will use countersunk holes and black hardware for cleaner 

appearance