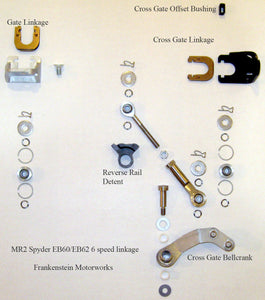 This kit includes all the parts required to connect the 6 speed EB60 transmission from the Scion TC into the Spyder MR2 when it is mounted using the Frankenstein Motorworks transmission mount kit. 
If the EB62 is used to get the taller 5th and 6th gear ratios the EB60's shift levers will have to be installed on the EB62 to work with this kit. OEM part numbers for the levers:  33253-20081 & 33257-21011
Instructions to install the reverse detent cam inside the transmission are here.
This kit counts on the starter being short and leaving clearance for the cable. it works with starter part number 28100-0V011, it'll likely work with others also but they are not currently tested.
Note: Installation instructions for this are in process, If purchased before the instructions are finalized I will be happy to provide one-on-one e-mail support for the instalation.