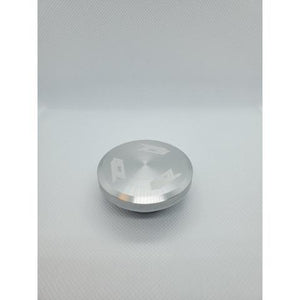 The TCS Motorsports Low Profile MR2 Oil cap compliments ANY Toyota MR2 Engine bay. These are CNC machined out of 6061-T6 aluminum, and seal with a Viton O-ring on the underside.  The sides are knurled to help with grip when installing/removing the oil cap as well!
This part was born out of necessity! When installing a Gen5 3SGTE, you will notice that the oil cap is in a different location than all other Generations of the 3SGTE. Normally this would not be an issue, but when you attempt to install one of our Rear X braces, or a TRD rear X brace, you will notice that it no longer fits! The X brace comes in contact with the oil cap, what a bummer! With the TCS Motorsports Low Profile Oil Cap, this gives you additional clearance needed, all while adding a little nicer look to your overall engine bay. 
The TCS Motorsports Low Profile MR2 Oil cap works on ANY generation 3SGTE engine, as well as any other engine that uses the same thread pitch!